Map of S'Algar / Cala Alcaufar area Click to open/close Map
Double click or use + or - to zoom in/out, Click hold and drag to view surrounding area
View Larger Map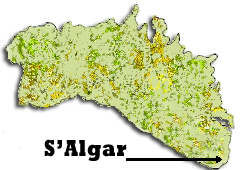 S
'Algar situated on the south east coast a few km from
Mahon
, is a purpose built resort consisting of two large hotels quite a few apartment complex's and privately owned villas. Some holiday brochures state there is a small beach in resort. This is not true the closest is at Cala Alcaufar a steady fifteen minute walk.
Cala Alcaufar is very picturesque, a long narrow inlet (cala) with fishermen's cottages, beautiful villas and a small hotel ( Xuroy) with a bar and terrace along one side of the inlet. It's an ideal place if you have small children, they can play quite safely, although the beach is not one of Menorca's best. There are also lovely walks out to an old Martello type tower on a headland, where there are good views out to S'Algar and the Isle de L'Aire at Punta Prima.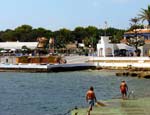 A personal view of the S'Algar Holiday Resort Kindly sent in by Bruce Thomson
Well firstly there is little evidence that this used to be a nice little fishing village! This is a purpose built resort, built by a family business, its focused around a sports hotel and four apartment type hotels and the Hotel S'Algar itself which is right down on the sea front, there is a large lido and the seashore is rocky, so all the day time action is either here, around the pools or elsewhere!