View Larger Map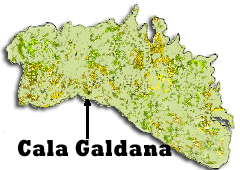 Worth a visit, we gave it 10.

Situated on the south coast of Menorca around 40 minutes from the sirport and only a few kilometers from the town of Ferreries lies the very popular and picturesque resort of Cala Galdana.

Although small in size, it is one of Menorca's most loved, most photographed and most visited resorts.

Known as 'The Queen of the Calas', Cala Galdana has plenty to attract the visitor and keep them happy. Besides the obvious attraction of the magnificent horseshoe beach and towering cliffs, the holidaymaker has a wide choice of other activities including: boat trips, mini golf, water sport, scuba diving and cycling.

Cala Galdana also makes a good base for the many scenic walks around the Menorcan countryside and along the Cami de Cavalls or coastal paths which lead to secluded natural beaches Cala Mitjana to the east and Calas Macarella & Macareletta to the west of the resort, untouched by the growth in tourism.

Accommodation is plentiful with a wide choice of villas and apartments plus hotels quality hotels just a stones throw from the beach. Cala Galdana has something for everyone.

The Algendar Gorge, the most dramatic of all Menorca's limestone gorge starts life in the country side just outside Ferreries, it winds it's way down to the sea opening out in Cala Galdana where the small river, the Algendar, flows into the sea and enhances the natural beauty of the bay.

Cala Galdana, is constrained by the width of the Algendar Gorge, this can mean that some of the holiday accommodation can be situated high up, with some properties having many steps up to them. The three main hotels are all situated on the valley floor within ease walking distance from the beach and all of the resort attractions.