Sant Lluis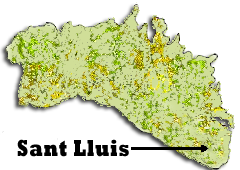 F
ounded by the French in 1761 during their occupation of Menorca, Count l'Annion, then Governor of Menorca, ordered the village to be built around a church - dedicated to Louis IX.
Sant Lluis is a typical white washed Menorca village boasting a thriving community making it an ideal base to explore this corner of the island.
The road from Mahon leads direct to Sant Lluis then splits off leading to the Bini's, Binibequer, Binisafua and Binidali, Punta Prima, S'Algar and Cala Algafar.
The holiday maker has a vast choice of accommodation in the area ranging from apartments to villas, 1 star hostels to 5 star rural hotels. Dining out can be as cheep or as adventurous as you want with some of Menorca finest restaurants just minutes from the town.