"Collingwood 2010, Menorca"
March 27th. to 30th..
The Asociación Menorca Britannia Commemorating
the 200th. Anniversary of the death of
Admiral Lord Collingwood
Lord Collingwood links with Menorca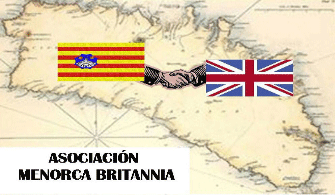 One of Menorca's foremost groups, the Asociación Menorca Britannia actively encourages and promotes a better understanding of the historic and cultural links between the Menorquin people and the British community. Since 1708 and the arrival of the British during the reign of Queen Anne, subsequently to become a British Crown Colony on the signing of the Treaty of Utrecht in 1713, there has been a unique and deep rooted British influence (and mutual friendship) which can be clearly seen by today's visitors. Although Great Britain voluntarily handed Menorca back to the Spanish crown at the Treaty of Amiens in 1802 that friendship continues to the present day.
Born in Newcastle upon Tyne, Cuthbert Collingwood's outstanding career is known to most with an interest in naval history and is only overshadowed, perhaps mistakenly, by that of his great friend Admiral Lord Nelson. It was after the unfortunate and premature death of Nelson early during the Battle of Trafalgar that the true courage, humanity and dedication to his country were shown by the great man we are, this year, commemorating and when his connection with Spain and in particular Menorca begins.
Bravely leading the battle from the front until it's final conclusion, Collingwood showed his great humanity during the storm that followed by sending out boats to rescue hundreds of potentially drowning Spanish and French seamen from stricken or sinking ships. He arranged the safe landing of these "prisoners" in Cadiz and into the hands of the Governor of Andalucia, the Condé de Solana. A friendship was cemented with the gift of barrels of wine being sent to the British ships. Reportedly in return, a return gift of a keg of British beer and some cheddar cheese was given by Collingwood. Many letters between the two men display their mutual respect and friendship thereafter.
Following the Battle of Trafalgar in 1805 Collingwood expected to retire after a lifetime at sea and spend the rest of his life at his beloved home in Morpeth with his long suffering wife Sarah (neé Blackett) and two daughters whom he had rarely seen during their marriage. However this wasn't to be. The Admiralty refused his letter of resignation being short of senior commanders and ordered him to Port Mahón, Menorca to take charge of the British Mediterranean Fleet. Britain and Spain having an agreement to jointly use the port facilities of the fantastic deep water harbour. As always his King and Country again came first.
During the last five years of his life Collingwood dutifully carried out his orders, his fleet blockading the French south coast ports, patrolling the Gulf of Leon and assisting the Spanish in defending their mainland coastline and the Balearic Islands.
As his shore base Collingwood took residence in a splendid colonial style house "Fonduco" overlooking the harbour and above where his flag ship was anchored. This is now a charming privately run hotel retaining all the features and alterations carried out during his time here
It was in the year prior to his death and during the Napoleonic War that Collingwood ordered an escort of frigates to a merchant ship bringing to Menorca one of the Worlds largest organs ever manufactured. This was installed in the parish church of Sta. Maria in Mahón. With it's over 3000 (three thousand) pipes and four keyboards the organ is played every day and just part of the heritage left by Lord Collingwood on Menorca. This world famous organ is also celebrating it's 200th. Anniversary this year, 2010.
During his last year Collingwood was ailing and in pain spending many periods bedridden (now believed that he was suffering from stomach cancer) but he stoically "soldiered on" until being obviously very ill and dying he was carried to his ship to make way to England. Unfortunately he died on board still within Menorcan waters.
The Asociación Menorca Britannia is proud to be arranging the 200th anniversary commemoration in Menorca of the life of Lord Collingwood, completing the full circle, so to speak, from his place of birth to his last honourable post and eventual place of death.
The Asociación is also honoured to present a specially commissioned sculptured life size bronze bust of Admiral Lord Collingwood which is to be placed in a prominent position near the harbour side and to leave a lasting memorial which all the residents and visitors to Menorca can admire in the years ahead.
Obviously with the 1805 Club arranging the commemorative event in Newcastle during the weekend of the 6th./7th. March it is appropriate that we are holding the event in Menorca at the end of that month. This gives ample opportunity for all who wish to attend both.
In co-operation with the Island Government, Mahón Town Council and various sponsors the programme during the 3 days is expected to be as follows although dates and times may vary slightly.
Saturday March 27th.
Saturday morning Her Majesty's Royal Navy arrive.
Afternoon/evening Civic reception by Consell Insular (Island Government)
Organ recital in Sta. Maria Church together with choir and piano recital.
Sunday 28th.11.00hrs/14.00hrs
Unveiling and dedication of the sculpture of Admiral Collingwood with the ships company in attendance
The following displays adjacent to the ship:
The famous Menorquin Horses, Folkloric Group.
Menorcan products market.
Marionets to relate the Collingwood story in Spanish to the children.
Visits around the ship.
Sunday evening A guided tour for crew and visiting dignitaries around "El Fonduco" Hotel Almirante Collingwood. Courtesy of the Family Montanari.
Monday 29th. Choice of excursions for crew and visiting dignitaries:
Island Tour
Forts San Felipe and Marlborough
La Mola (and the 84.1cms Vickers Armstrong Cannon manufactured in Newcastle and supplied and fitted between 1931/36
Sporting events, rugby, football and golf Local teams versus ships crew.
MENORCA has a lot more to offer than it's historic links however. A Biosphere Reserve with over 60 % of land area under protection, 123 beaches the majority of which are undeveloped, The beautiful countryside which is a dream for walkers and bird watchers alike and the springtime wild flowers must be seen to be believed. Put this together with the ancient bronze age monuments and the worlds second largest deepwater, natural harbour, the contrasting architectures of the cities of Mahón and Ciutadella and the British built fortresses and naval base. There is something for all our visitors to enjoy. If you can't make the commemoration weekend in March then we all look forward to your visit during the summer when you are sure of a very warm welcome.
For further information and enquiries contact by E.mail to menorcabritannia@msn.com