Menorca is an island of 700 sq kilometer and just over 200km of coastline, 50Km long and 20Km at its widest point, with its highest point being only 358 mt (Mt el Toro).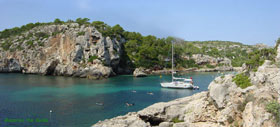 M
enorca is almost equidistant in the Mediterranean, between Marseille on the southern French coast and El-Jazair on the northern Algerian coast, and again between Valencia on the Spanish coast and Sardinia. Just over 100 nautical miles from Barcelona, with Mallorca being just 20 nautical miles away [Alcudia Just over 30 nautical miles]
Menorca's location near the eastern Spanish coast, gives the island a temperate climate, with plenty of sea breezes, ideal for sailing and boating in general. The coastline is ideal for the boat owner / chartering with over 120 beaches and picturesque inlets, some only accessible from the water, you won't find the crowds as you can in other destinations.
Mahon has the second largest natural harbour in the world. It is 6km long and offers sheltered mooring which is deep enough for even the largest ferries and cruise liners. Ciutadella at the west of the island also offers safe mooring in the smaller harbour. Whereever you are around Minorca's coast you are not far from safe sheltered moorings. Other places to moor up overnight on Minorca include Fornells on the North and Calan Bosc on the south west corner.

Mahon Fiesta fireworks night