Calan Bosc area map Click to open/close map
Double click or use + or - to zoom in/out, Click hold and drag to view surrounding area
View
Calan Bosc
in a larger map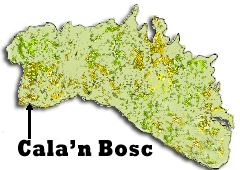 Cala n Bosc, Son Xoriguer can be found in the south west corner on Menorca. Heading south out of Ciutadella you will pass the roads leading to the resorts of Sa Caleta, Santandria and Cala Blanca. After a few more kilometers further on the new and splendid looking hotels on the out skirts of the resort come in to view.
This fairly large and some what busy resort, centre's on the attractive marina, which at first glance looks land locked. This is not the case though, as there is a narrow channel leading out to sea from the southern end.
The resort looks fairly quiet by day but the marina comes to life in the evening, with market stalls selling all manner of trinkets, amusement arcades, play areas for the younger end and bustling music bars. Cala'n Bosc has a large variety of restaurants offering everything from the cheep and cheerful burger to a full five course gastronomic delight.